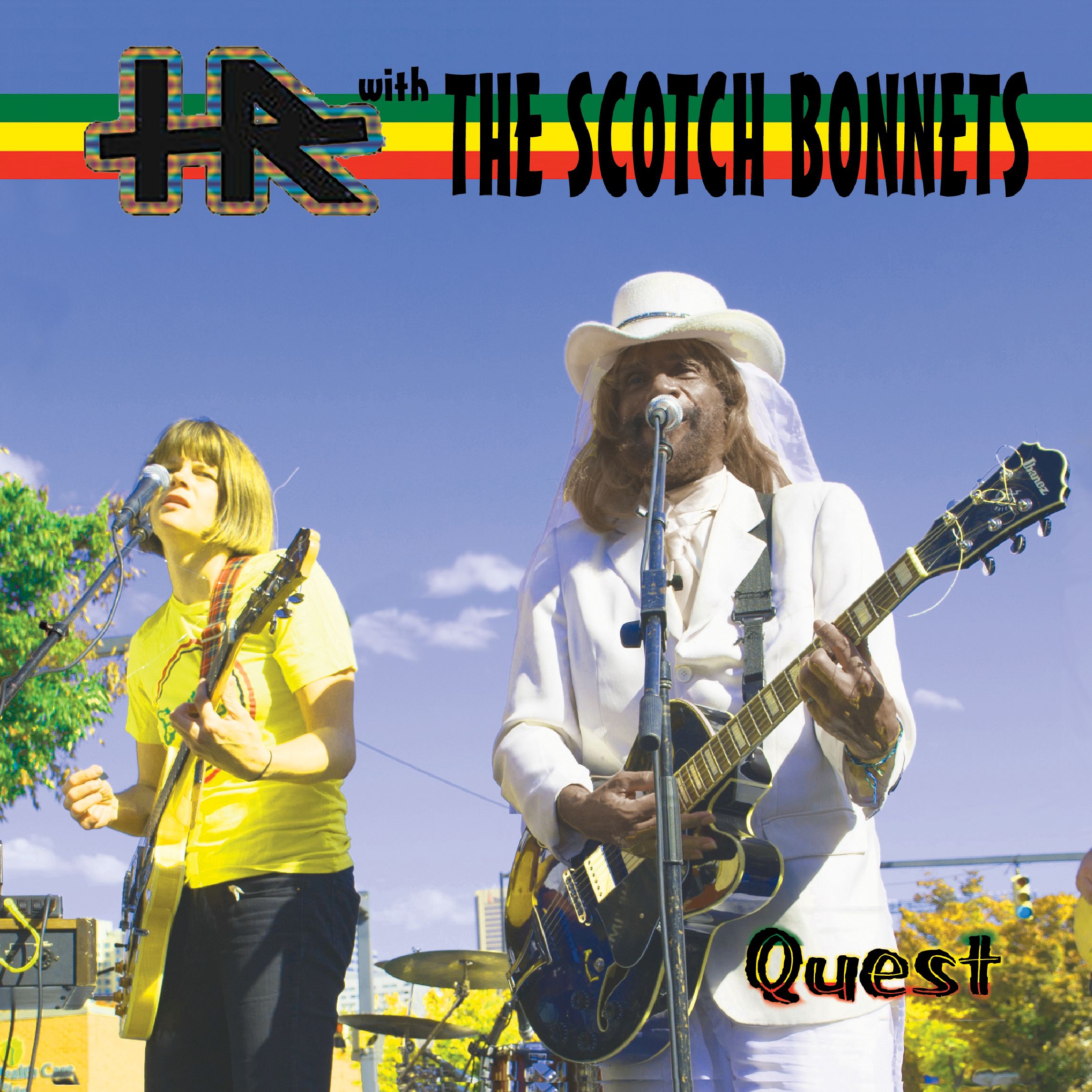 The Bonnets are thrilled to release Quest, an EP of new material recorded in collaboration with the enigmatic frontman for the legendary hardcore punk pioneers Bad Brains and singer of his own innovative reggae group Human Rights, HR (U.S release is December 2, 2014 on Morphius Records. The CD format will be distributed nationally by Music Video Distributors (MVD).

Said HR, "I'm really into (this release). It was a good situation, working with (The Bonnets) in the studio, and this is a long overdue composition."

HR and The Scotch Bonnets went into Lord Baltimore Studios in February of 2013, fresh off a successful weekend of shows together, to record a track for Morphius Records' 20th anniversary compilation, XX. They ended up recording six songs during that session, one of which was chosen as the lead-off track for the compilation.

"I wasn't exactly sure what was going to come out of these sessions," admits Lady Hatchet. "We were getting ready to release Live Ya Life, and I didn't have a whole lot of new material ready to record. I did have a couple songs that were brand new, so new that I hadn't even brought them to the band yet. But we were so tight during that session, having just come off the road, that the guys nailed them. Everything came out so good that David (Andler, President of Morphius) asked if we'd want to release the other tracks as an EP, and we were like, "Yeah! Let's DO this!"

From the romping pub ska of "Cheyenne" to the spacey reggae love vibes in "My Universal Love" to "Just A Kid", a rare Bonnets soul-rocker, Quest is an eclectic mix of songs sung by both HR and Lady Hatchet. The EP's title track boasts HR's first recorded boy-girl duet, his avant-garde vocals in juxtaposition with Lady Hatchet's R&B tinged hooks. And what HR session would be complete without a little studio experimentation? Precisely that can be found on "H.R. Psalm", a mesmerizing HR composition for which he conducted the band as they played along to a previously recorded HR track!

The EP boasts three new vocal performances by HR. Two of those songs, the title track "Quest" as well as "My Universal Love" were penned by Pablo Fiasco many years ago. Long guarded as instrumentals, the tracks were finally given to HR to complete during these sessions.

"I've tried at times to bring (the songs) into other groups I've played with," said Pablo. "But not to the degree that I was ready to let them have their own lives. This opportunity with Morphius was unique in that David was not only happy (for us to try them) but actively encouraged it, (wanting to hear) what would result from the sessions."

In support of Quest, The Scotch Bonnets will once again back HR for a string of release shows around the Mid-Atlantic, with more shows together to follow.
Tour Dates:
Thursday, December 4: Baltimore, MD: Holy Frijoles
Friday, December 5: Washington, DC: Comet Ping Pong
Saturday, December 6: Brooklyn, NY: Palisades
Sunday, December 7: Philadelphia, PA: Kungfu Necktie